Open Evening for Entry to Year 7 September 2023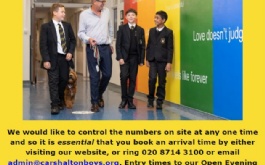 We are holding our Open Evening for prospective Year 7 entry September 2023 on Thursday 22 September 2022. The Evening will run from 4:00pm until 7:00pm the last entry to the site will be at 6:30pm in order to give you sufficient time to visit departments etc.
In order to control numbers of visitors on site to ensure we can operate the evening in a safe manner it is essential that you book your arrival time, this also reserves your place for the Principal's talk.
Numbers for each entry time are limited to allow parents and prospective students the opportunity to tour the site in a safe and timely fashion, and that they are able to visit all of our fantastic facilities.
Please click on the link below to book your entry time — please note that places are limited to 3 people in each family party:
For 4:00pm entry: https://forms.gle/pUzMNYKSayid2oSu8
For 4:30pm entry: No available spaces.
For 5:00pm entry: https://forms.gle/2iFWXQtJZdUHrHUFA
For 5:30pm entry: https://forms.gle/1c9zCNqoZzSLWy776
For 6:00pm entry: No available spaces.
Please note that if you have not booked an entry time then we will not be able to accommodate you on the school site.
We are also holding morning tours of the school from Monday 26th September to Friday 7th October, starting promptly at 9.30am each morning. If you would like to book a place on a morning tour complete the link below:
Morning Tour booking form: https://forms.gle/vrEEoqRGmp2wkGhY9